No Reservations
Anthony Bourdains travel/foodie/cursing angry bitter drunken hybrid clusterfuck of awesome is just that. Awesome.

Monday Night Raw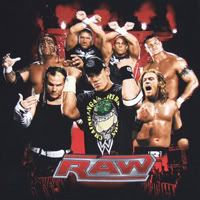 Its wrestling. Do you know me?

Comedy Central Presents
I'm addicted to stand up. The end.
Daily Show
Where do you get your news? This is where I get mine.

Colbert Report
I don't throw around the word genius lightly. Yet, here we are.